What is Google Event IO 2023?
The Google IO conference is an annual event during which the tech giant announces its latest inventions and technology. The event brings together developers, tech enthusiasts, and industry executives from all around the world to demonstrate the most recent technological developments.
The Google IO 2023 event was no different, with a slew of intriguing new features and products on display. In this post, we'll look at the important takeaways from the Google IO 2023 event and how they may improve your digital experience.
Google Maps
Google Maps is considered one of the most popular navigation programs in the world, and Google just unveiled a number of new additions to improve its functionality. Real-time weather updates, enhanced directions, and the ability to search and book nearby services directly within the app are among the new features.
Workspace AI
Google said during I/O that the same AI capabilities will be added to Gmail and Docs on mobile. This implies that more individuals can now use generative AI on their smartphones to accomplish things like rewrite emails in a specific style. Google also intends to incorporate automatic table generation in Sheets via a simple prompt, allowing consumers to construct a custom table or tracker, including date and time, to assist them with any project. Google Workspace has almost 3 billion users.
PaLM 2
Google announced PaLM 2, a new large-language model capable of a wide range of tasks such as coding, reasoning, multilingual translation, and natural language production, during I/O.
PaLM 2 has been trained in over 100 spoken languages, allowing it to excel at multilingual tasks like as idioms, poems, and riddles. It require understanding ambiguous and realistic meanings of words rather than literal ones. PaLM 2 has been trained in a large amount of math and science books, including scientific publications and mathematical expressions.

The model's capacity to reason has improved, as evidenced by problem-solving. Google claims that PaLM 2 powers over 25 Google products in the background.
Bard gets smarter
Good news: Google is not only removing the Bard backlog and making it available in over 180 countries in English. Google also introducing support for Japanese and Korean, with an aim of supporting 40 languages in the near future.
Bard's capacity to surface visuals in its answers is also novel. Furthermore, Google is collaborating with Adobe on some art-generating capabilities through Bard. "Bard users will be able to generate images using Firefly and then modify them using Express," Kyle says. Users will be able to select themes, fonts, stock photos, and other resources from the Express collection within Bard."
Pixel Fold
One of the major announcements that have already occurred, as Brian has reported, is that Google utilized May 4 (aka "May the Fourth Be With You") to debut a foldable Pixel phone. Brian delves into the phone in a new story, writing that Google has been working on it for five years. The smartphone will be available with a cover display measuring 5.79 inches and an interior display measuring 7.69 inches.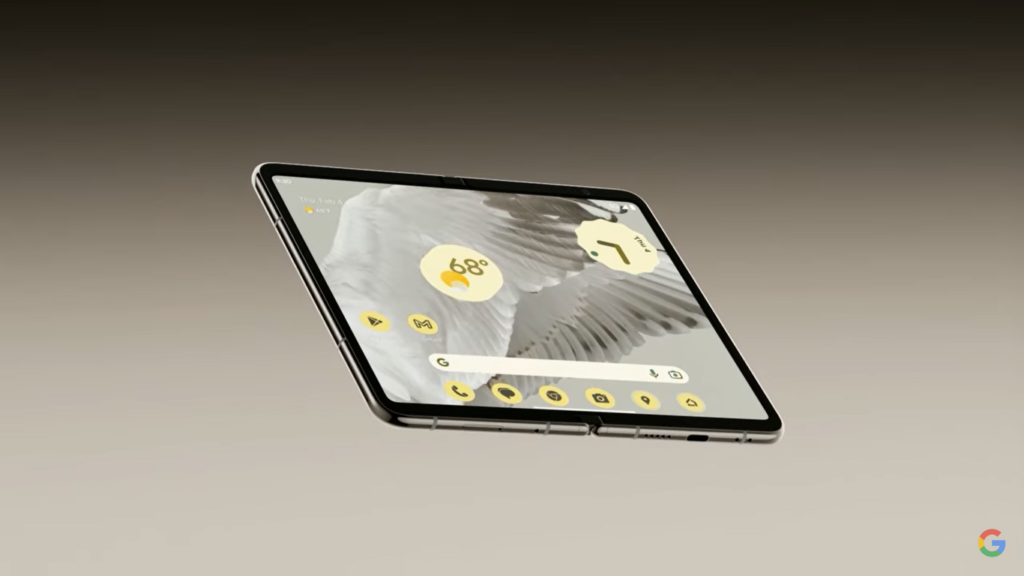 It is described as having "the most sturdy hinge on a foldable" and is water-resistant. Google's Tensor G2, which debuted in the Pixel 7 and Pixel 7 Pro last year, is also included in the Pixel Fold.
Pixel 7a
However, Google is deadly serious about its plans to capture the premium mid-range market in India with the Pixel 7a. The Pixel 7a was announced at I/O and is simply a less costly version of the Pixel 7, the company's premium smartphone from last year. The Pixel 7A uses the same Tensor CPU and design as the Pixel 7, however, the experience is slightly different.
The new model has been improved in all main criteria, particularly the camera. It still has two back cameras, but they have been upgraded to 64 MP wide and 13MP ultrawide lenses. Google is a camera expert, and the Pixel 7a will produce good photography for the price.
Google's Pixel A-series phones, on the other hand, are not more affordable. The Pixel 7a is priced at Rs 43,999, making it a contender to the Apple and OnePlus 11R.
Google Tensor Processing Units (TPUs)
Google has announced the release of its latest Tensor Processing Units (TPUs), which are intended to improve machine learning capabilities. These TPUs are designed specifically to speed machine learning workloads, resulting in faster performance and more efficiency. This technique has the potential to revolutionize the way machine learning models are constructed and deployed, increasing accuracy while decreasing training time.
Android 14
Android 14, Google's latest mobile operating system, now includes new lock screen personalization choices as well as the ability to use AI-generated wallpapers. Dave Burke, vice president of engineering for Android, presented a glimpse of how Android users would be able to customize further of their lock screen, create new wallpapers using emojis, and use images to create 3D wallpapers during the demonstration. All of these features are made possible through generative AI. They will be available on Pixel phones starting next month. Meanwhile, generative wallpapers with theme selection and quick customization will be available in the fall.